Route length: 3,2 km
Duration: 2,5 - 3 hours
Ascent: 939 meters - Descent: 53 meters
Route description: Ascent- Medium difficulty
Recommended to: all mountaineering clubs and if being careful to children above the age of 10 years old.
Season: May to October
* The information above is given to reach your destination.
       You have finally taken the decision to spend a night at Sp. Agapitos refuge and you enjoyed it. The next morning, you wake up thinking where to go to gain much more experience from Olympus, the Mountain of Gods. Firstly, you should reach for the refuge administrators (Dionysis and Maria), who will guide you about what to do next. Depending on your physical condition and whether you liked the mountain or not, they will organize a schedule for you. After all, you had already had a taste of Olympus after having completed the first 6 km of the Prionia - Sp. Agapitos refuge . We have already recommended the route for Toumpa Summit and Profitis Elias Summit, if you decide to walk through the route described below, you are probably ready for the next step in mountaineering: an ascent to the highest summit of Olympus, Mytikas.
       Enjoy every moment of your stay on Olympus. There are so many recommendations to follow. It is certain that the mountain will win a place in your heart an (when the time comes) you will leave with nothing but the best impressions.
The translation in English was made by " Sidiropoulou Athina " and we thank her, for her help.
Information:
       It is a route of 3,2 km total length, all on path, with altitudinal slope (ascent) of 939 meters. The duration of the trail is 2,5 - 3 hours. There are no signs through the trail but the path is very distinct while at crossroads there are signs which inform you where each path leads and which you should follow to reach your destination. Throughout the path there is no mobile service, only on the summits. In general, it is described as a route of medium difficulty and with a little attention it can be crossed by young children.
USEFUL PHONE NUMBERS:
-European Emergency Number: 112
-Fire Brigade: 199
-E.K.A.V. (Ambulance Help): 166
-Sp. Agapitos refuge: +302352081800
All the above are summarized in the following chart:
Click on the word "wikiloc" so you can store the route on a Garmin gps device or Androit or Smartphone device. You can also print the information without the illustrations shown below. The tracking of the trail was done using a 650t Montana gps device by Garmin.
The route is recommended by the administrators of Spilios Agapitos refuge.
In particular:
       After a good breakfast, start today's adventure from the path starting right next to the pine at the yard of the refuge (at an altitude of 2.060 meters) behind the water fountain (Image 1)...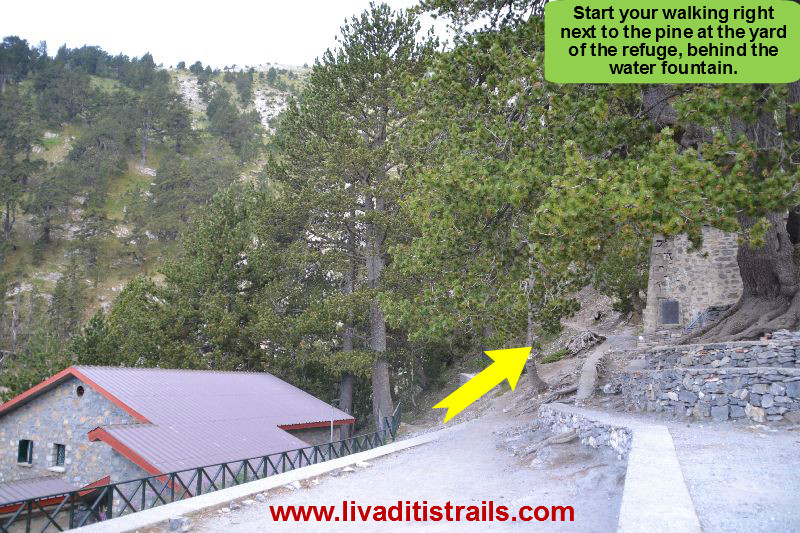 Image 1.
       For the first 10 minutes, after 300 meters at an altitude of 2.140 meters, you will notice a crossroad on your right with signs that will guide you to the "Mouson Plateau" and more specifically to the Ch. Kakkalos refuge. If you aren't familiar with climbing we won't recommend you follow this path, called "Kofto" due to its great slope and the remaining snow from the heavy winter. So, continue straight ahead (left) on the path (Image 2)…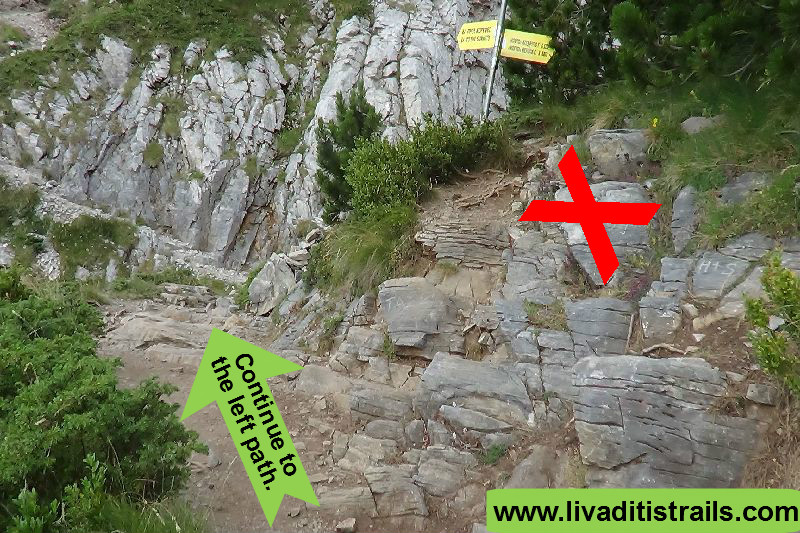 Image 2.
       After 400 meters and 15 minutes of walking at an altitude of 2.220 meters, you will come across a bench made of stones; you have an amazing, panoramic view of "Kalogeros" and "Livadaki" summits (Image 3)…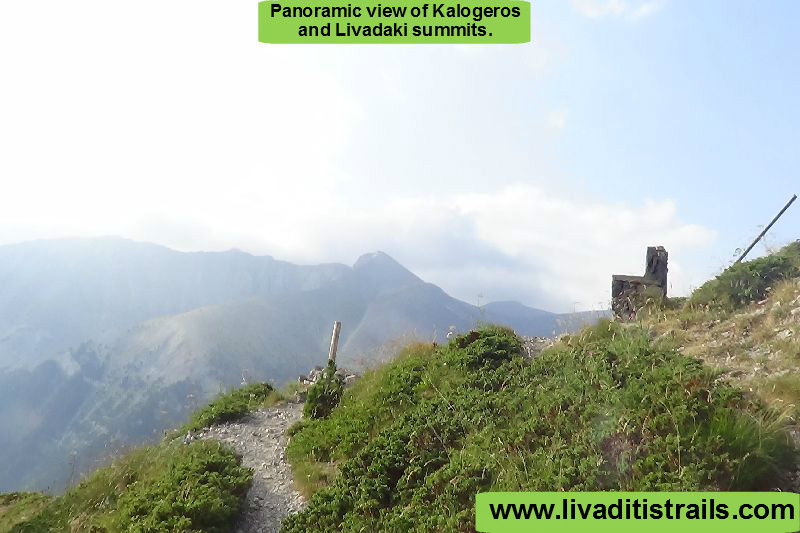 Image 3.
       Continue on the path, after 600 meters and 30 minutes of walking at an altitude of 2.420 meters, you will come across a second bench with the same panoramic view (Image 4)…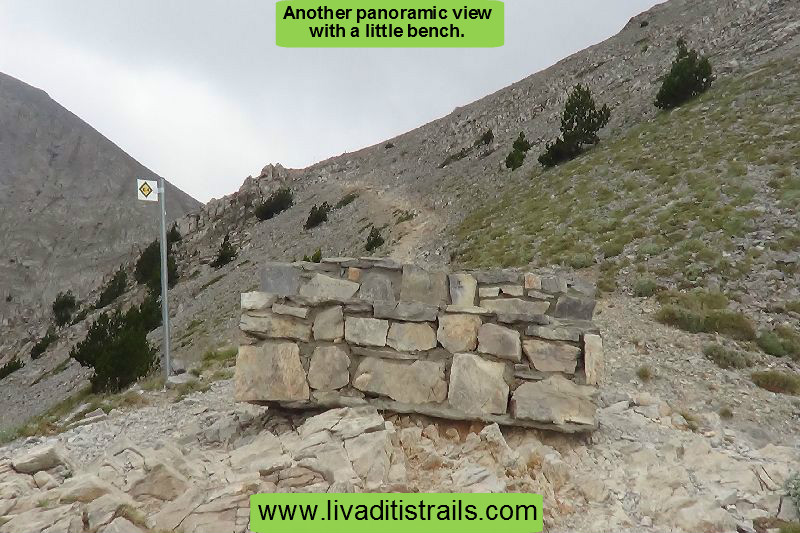 Image 4.
       The edge behind the bench is the crossroad to "Skala" or "Zonaria", where you will arrive after 200 meters of walking (about 10 minutes) at an altitude of 2.480 meters. At the crossroad continue straight ahead (left) at the bottom of a large slope, which leads to the most important summits of Olympus (Image 5)…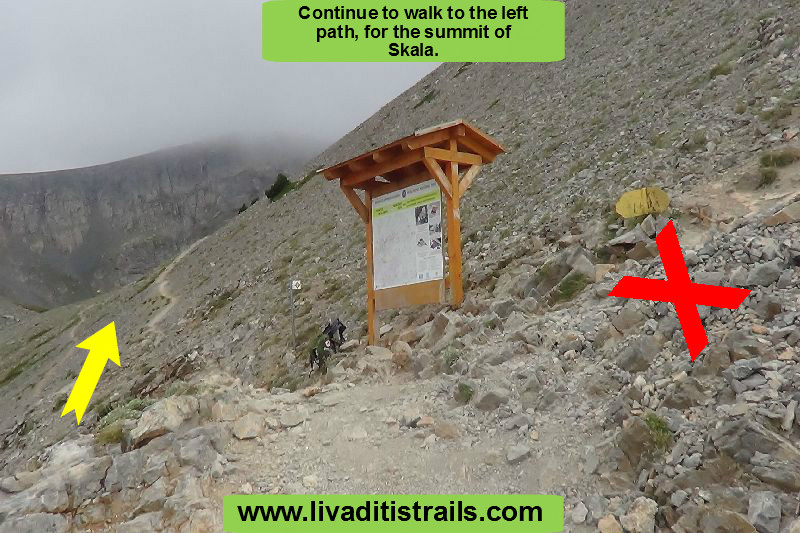 Image 5.
       The next 1,2 km may be the most difficult part you have ever walked in your life. The slope is endless and combined with your eagerness to reach higher altitudes for the first time, it will seem almost impossible (Image 6)…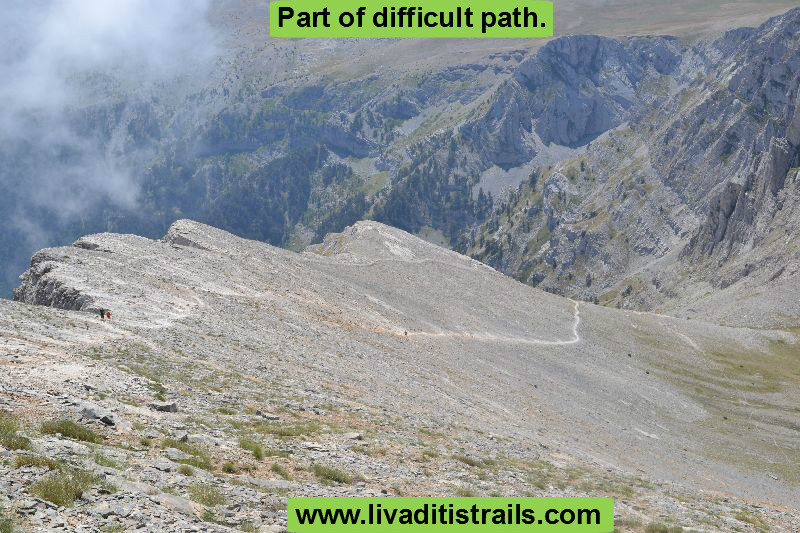 Image 6.
       Don't worry though! You will manage to walk this part with a slow walking pace and right breathing (left foot first, inhale, right foot then, exhale) now you will start approaching today's first goal (Image 7)…
Image 7.
       The view seen in a few minutes, after reaching "Skala" summit at an altitude of 2.875 meters, will be striking. From the crossroad, you will have to walk 55 minutes more to cross the last 1,2 km to the summit. There is no landmark, because it was slowly torn apart by the wind (Image 8)…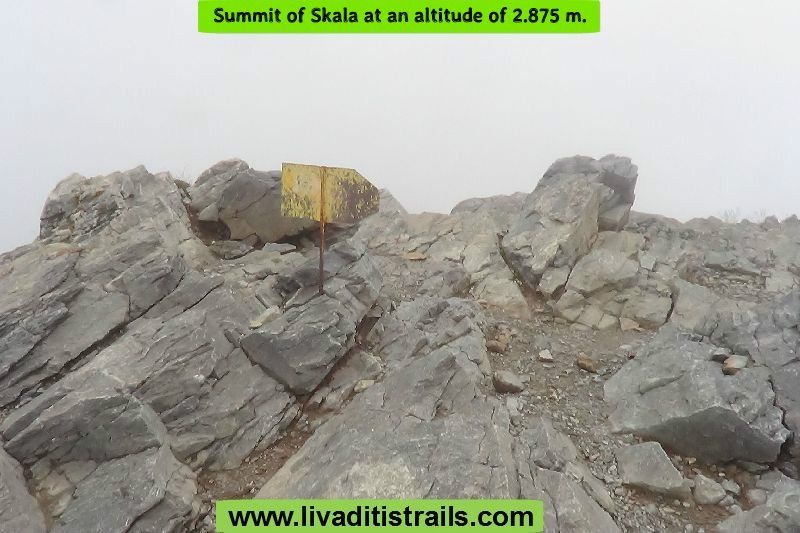 Image 8.
        The weather changes at this altitude are unique. The weather can instantly change from sunny to rainy. You will be amazed by how fast these changes happen. That's also the reason you should be prepared and well-equipped to deal with any situation.
       You are at the summit of "Skala". It is considered a place of strategic importance, the trail from now on is quite difficult, because you walk mainly on rocks. This is also the reason the trail is divided and given as a separated part:
        In case you feel tired from the earlier ascent, don't walk further especially if you start feeling afraid. Remember (as a friend says) that the mountain is always there. Don't push yourselves to your limits, to reach directly the summit and most importantly alone. Tiredness often leads to mistakes and hasty decisions which come with a cost, after all no one is going to mistreat you if you don't make it. Enjoy the mountain, walk through its trails and savor every offered moment. This will be your greatest profit and not necessarily reaching the summit.
       If you have decided, though, to take the risk, the trail goes something like this (Image 9) …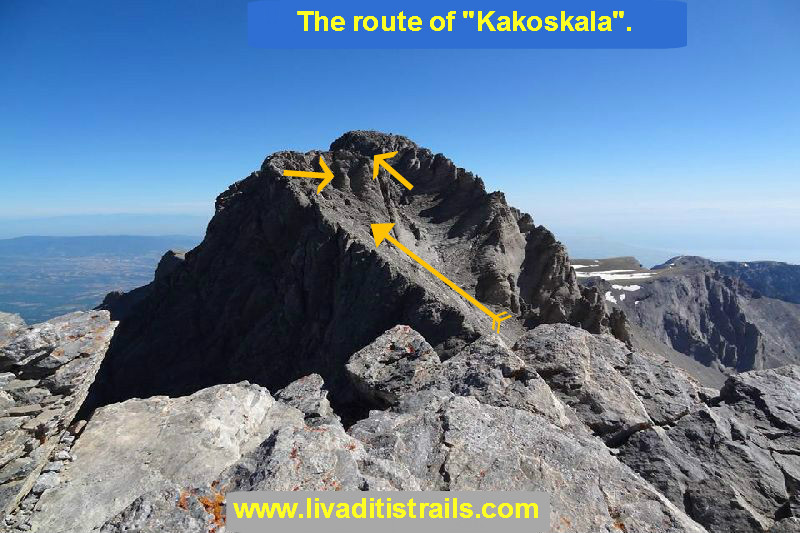 Image 9.
       To better explain the picture above we must make a radio description…Are you ready? Let's begin…Left from the summit of "Skala", you enter a small shaft for about 20 meters, which leads to the hillside right below the ridge of "Skala". Following carefully the signs on rocks, you descend for about 70 meters of altitude, where the path evens out and takes you to the bottom of a big hillside. You will have to ascend this hillside (90 meters of altitude). Reaching its end, you must move right to arrive at "Paramytika". From "Paramytika" you descend a few meters and continue left right below the summit, where you have to cross 20 more meters of altitude to arrive (Image 10)…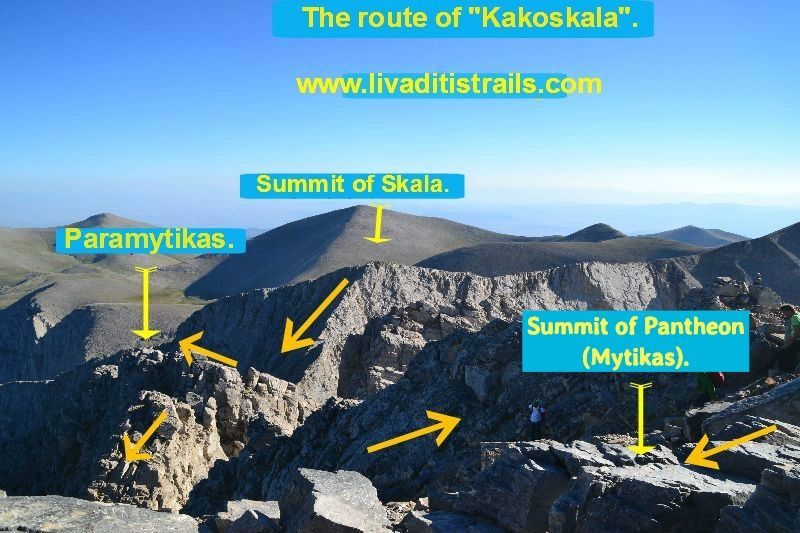 Image 10.
       The time needed to cross this part of the trail is about 30 to 50/55 minutes. When you reach "Pantheon" (Image 11)…
Image 11.
        No one can describe the emotion you will feel reaching the summit of "Pantheon" at an altitude of 2.918,80 meters. Every person has his/her own opinions, thoughts, achievements and dreams to fulfill. It's up to you to decide in which category you will assort this first meeting with the highest summit of our country. All we have to say is "IT'S WORTH TRYING"… to feel moved, to cry, to feel "GREEK"!!!
       For the return, follow the same path from which you reached the summit…
       The passage of the trail occurred on Saturday 27 th August 2016 alongside with the friend and co-mountaineer Kyriakos Ioannidis; the same day we gathered all the information that was mentioned, as well as the photographs included in the narrative of the path. We consider ourselves responsible, so we would like to treat those who love Nature and hiking and enjoy learning about new places with the same responsibility. We would also like, if you cross the trail above or any other on our website, to contact us (e-mail: This email address is being protected from spambots. You need JavaScript enabled to view it.) whether we were accurate on our description or there was a flaw that should be corrected.
Thank you for your trust and for visiting our website.
Κράτα το